Just wanted to give you, Trevor and Eddie massive, massive thank you for all the hard work! Trevor was awesome to chat with and he explained everything he was doing and he worked diligently to get the job done. The basement looks great and I'm happy to be able to move forward stress free that we will no longer have any leaks. 5 star service and will be recommended to anybody who asks.
In this day and age it seems that it is getting harder to find that really good service that goes the extra mile. I am so pleased with the work that was done at our parkade. You were very communicative at all times and this is something that is really important to me. I applaud you, the workers and the company for a job well done.
The work was completed in the time scheduled, at the price quoted and to our complete satisfaction...We would recommend this company for your concrete repair jobs.
...I was impressed with your knowledge and explanation of what needs to happen in the basement...Your job was completed on time and as promised!
I'd like to offer sincere appreciation for the quality of service provided by Crack Buster, Edmonton. I have had a year filled with renovation nightmares, irresponsible contractors, missed timelines and poor quality craftsmanship. The discovery of a leak in my basement wall was the final straw, but my experience with Crack Buster stands out as a bright spot. Mr. Kalboussi provided me with a reasonable quote and scheduled the repair in a timely manner. He arrived when he said he would, worked diligently and completed the repair and clean-up in a shorter amount of time than expected. I only wish the other tradesmen were as reliable and considerate. Although the rains have continued, my basement is now completely clean and dry! I am a truly happy customer and heartily recommend Crack Buster.
Crack Buster has just completed the repair of two vertical cracks in the foundation of my home. They removed wallboards, insulation, and vapour barrier neatly and quickly, locating the cracks and repairing them using epoxy injection. They worked very hard and very quickly, ensuring protective covering of computer equipment and other materials nearby... ...Their crew was very pleasant to work with, very thorough and knowledgeable about their business... I would have them back again if I ever needed similar work done and would highly recommend them to anyone who needs foundation crack repair work services. The costs were reasonable for the thoroughness and quality. I was very pleased.
In February of 2009, after a week of unseasonably mild weather, I discovered a water soaked carpet in the basement of my house. I suspected a crack in the foundation and called Hedi Kalboussi of Crackbuster Concrete. I highly recommend Hedi and company Crack Buster Concrete for any type of foundation crack repair.
Crack Buster convinced me that they would solve the problem without digging. They did, and at price that I could live with. Couldn't be happier with the results, and would recommend Crackbuster to friends and family. Thanks again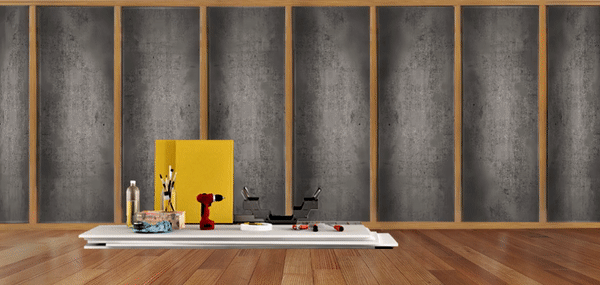 DWall System can help you to finish your basement with easy access to concrete foundation wall for inspection or concrete crack repair if required. It is removable drywall and no more insurance claim for minor leaks.